Second week of August
The weather has prevented ringing most of the second week of August, with a steady stream of low pressures dominating and the wind mainly in the W - NW. A small break in this pattern provided us with easterlies for a few hours during the night and morning on the 15th, and playback during the night provided us with a nice small catch of warblers. Also, an effort was made trap storm petrels and waders at Revtangen during two night on the 14th and 15th, resulting in 46 birds in total.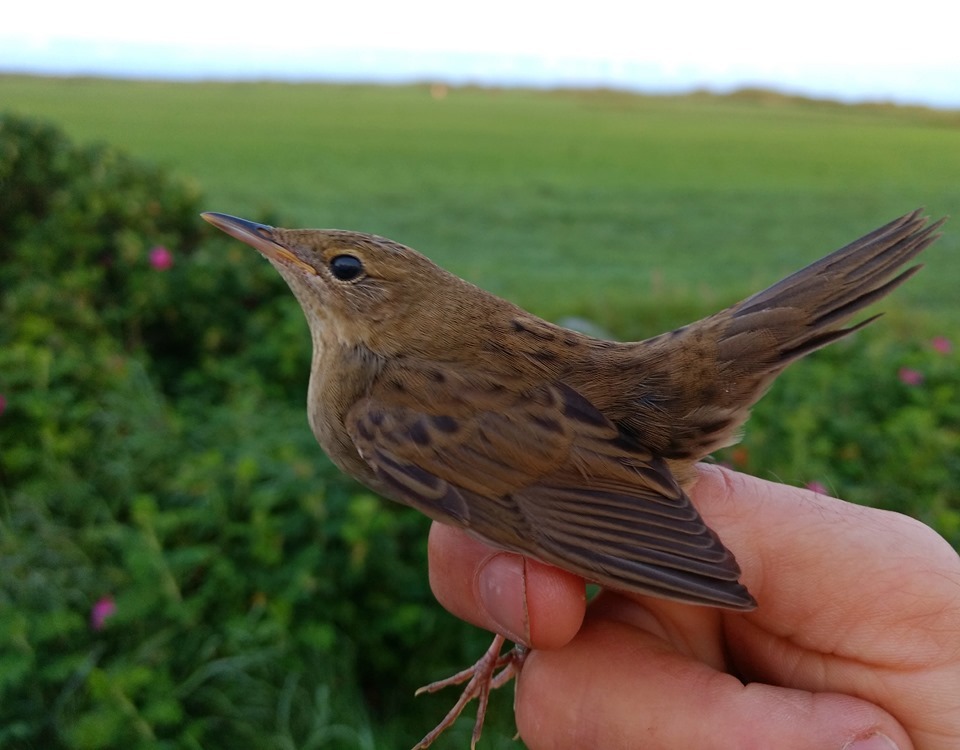 3 1cy Grasshopper Warblers were ringed on the 15th.

Ringing totals, 2nd week of August. Full days trapping only on the 15th. EUROPEAN STORM PETREL 3, Dunlin 20, Red Knot 9, PURPLE SANDPIPER 2, Turnstone 2, Redshank 1, Green Sandpiper 1, Common Sandpiper 9, Barn Swallow 2, Tree Pipit 5, Meadow Pipit 11, White Wagtail 3, European Robin 1, Fieldfare 1, Reed Warbler 11, Sedge Warbler 4, Garden Warbler 20, Blackcap 6, Common Whitethroat 7, Lesser Whitethroat 1, Willow Warbler 44, Chiffchaff 1, Great Tit 3, Pied Flycatcher 1, Common Starling 6, Tree Sparrow 3, House Sparrow 5, Chaffinch 1, Common Linnet 2. Total = 189. Also 2 controls, including a Willow Warbler not from Revtangen.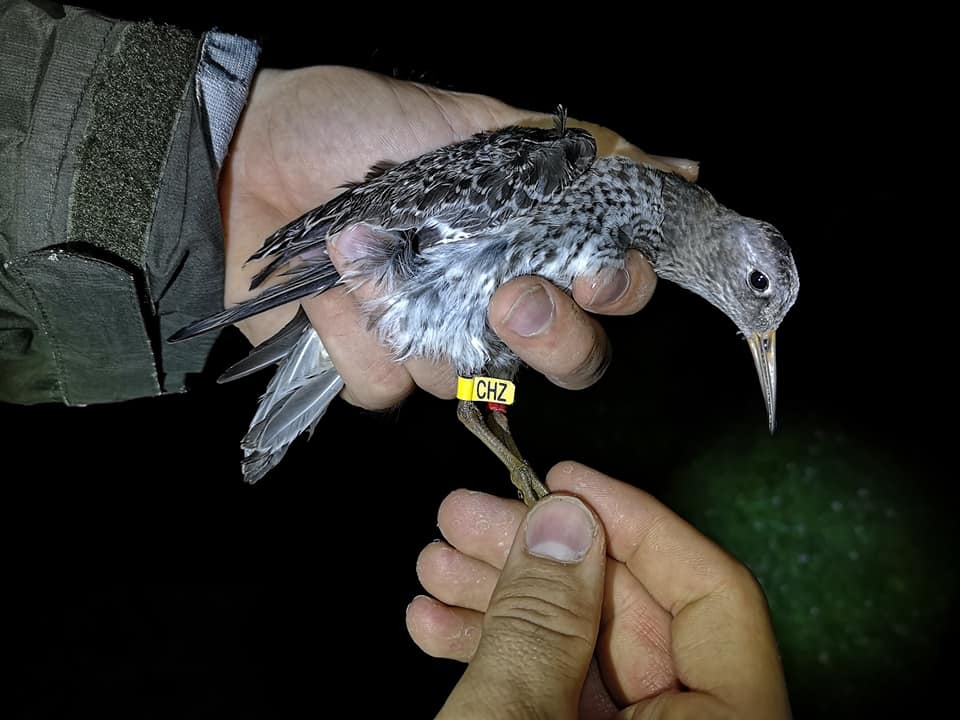 Purple Sandpipers are scarce at Revtangen, and most years only 1-2 are ringed. They are also ringed with a yellow flag with 3-letter inscription and red marker from the Norwegian mainland Purple Sandpiper colourringing scheme.

Staff: Hogne Skår, Björn Mo, Håvard Husebö, Renate Berg, Atle Espen Helgesen, Alf Tore Mjös, Morten Tjemsland, Njål Sölvberg.


Norwegian summary of ringing results, 2nd week of August: HAVSVALE 3, myrsnipe 20, polarsnipe 9, FJÆREPLYTT 2, steinvender 2, rødstilk 1, skogsnipe 1, strandsnipe 9, låvesvale 2, trepiplerke 5, heipiplerke 11, linerle 3, rødstrupe 1, gråtrost 1, rørsanger 11, sivsanger 4, hagesanger 20, munk 6, tornsanger 7, møller 1, løvsanger 44, gransanger 1, kjøttmeis 3, svarthvit fluesnapper 1, stær 6, pilfink 3, gråspurv 5, bokfink 1, tornirisk 2. Total = 189. Også 2 kontroller, inkludert en fremmed løvsanger.

`