Revtangen BO October 30th
The best catch of Bohemian Waxings for many years
A few windy days recently, but this morning was calm and cloudy with a light drizzle just after dawn. Nets open 07.30-16.30, netmeter hours approx. 3200. Playback on Common Blackbird, Fieldfare and Redwing around dawn, later Yellowhammer, Grey Wagtail and Bohemian Waxwing. 
Ringed: Sparrowhawk 1, Grey Wagtail 1, Winter Wren 5, Bohemian Waxwing 34, Dunnock 3, European Robin 2, Redwing 9, Common Blackbird 26, Fieldfare 10, Blackcap 1, Goldcrest 7, Long-tailed Tit 97, Great Tit 1, Blue Tit 12, House Sparrow 6, Tree Sparrow 5, Greenfinch 11, Mealy Redpoll 2, Yellowhammer 10. Total = 243. Also 29 controls, including Blue Tit and Common Blackbird with Stavanger-rings not from Revtangen, and two Long-tailed Tits with Swedish rings.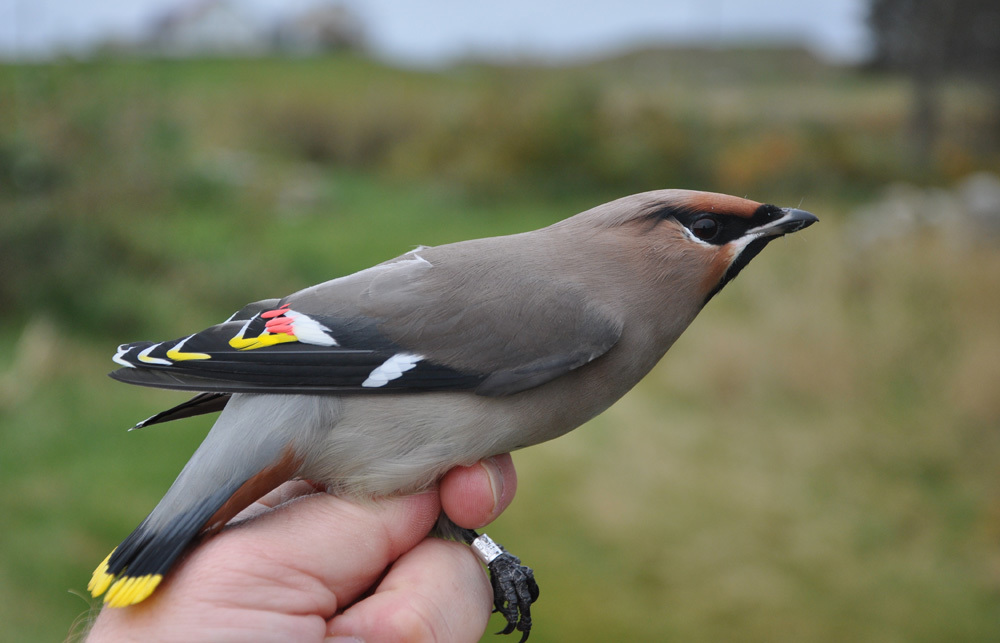 Bohemian Waxwing 2cy+ female. The best catch of Bohemian Waxings for many years today, with 34 trapped and ringed. Sidensvans 2K+ hunn.
Observations: Bohemian Waxwing 300 migrating north. 
Renate Berg, Espen Helgesen and Alf Tore Mjös. 3 visitors.