Revtangen BO August 27th
Open day
Today was "Open day". Once a year, normally the last Sunday of August, we open up the bird observatory to the public from 09-15. Visitors can join a netround, we have of course ringing demonstrations, stuff to do for kids indoors and a small kafé. The local BirdLife partner NOF also has a stand, and helps out with the arrangements. The weather was, increadibly enough, very nice with almost no wind and mostly sunny. A bit too nice for efficient mist-netting.
Nets were open 06-16, netmeter hours approx. 3600. Playback on Garden Warbler, Reed Warbler, Grasshopper Warbler and Aquatic Warbler through the night, and Tree Pipit, Meadow Pipit and Grey Wagtail during the day. Also 7 walk-in traps, 7 wader clapnets and 6 baited claptraps at Revtangen from 08-19. 
Ringed: Dunlin 241, Sanderling 12, Little Stint 1, Common Redshank 10, Spotted Redshank 1, Common Ringed Plover 8, Turnstone 4, White Wagtail 1, Tree Pipit 15, Meadow Pipit 19, Winter Wren 1, Dunnock 1, Northern Wheatear 2, Common Redstart 1, European Robin 3, Grasshopper Warbler 5, Sedge Warbler 2, Garden Warbler 20, Blackcap 3, Common Whitethroat 2, Lesser Whitethroat 1, Willow Warbler 5, Coal Tit 1, Eurasian Nuthatch 1, Common Starling 14, House Sparrow 2, Tree Sparrow 1, Chaffinch 2, Greenfinch 1 and Common Linnet 1. Total = 381.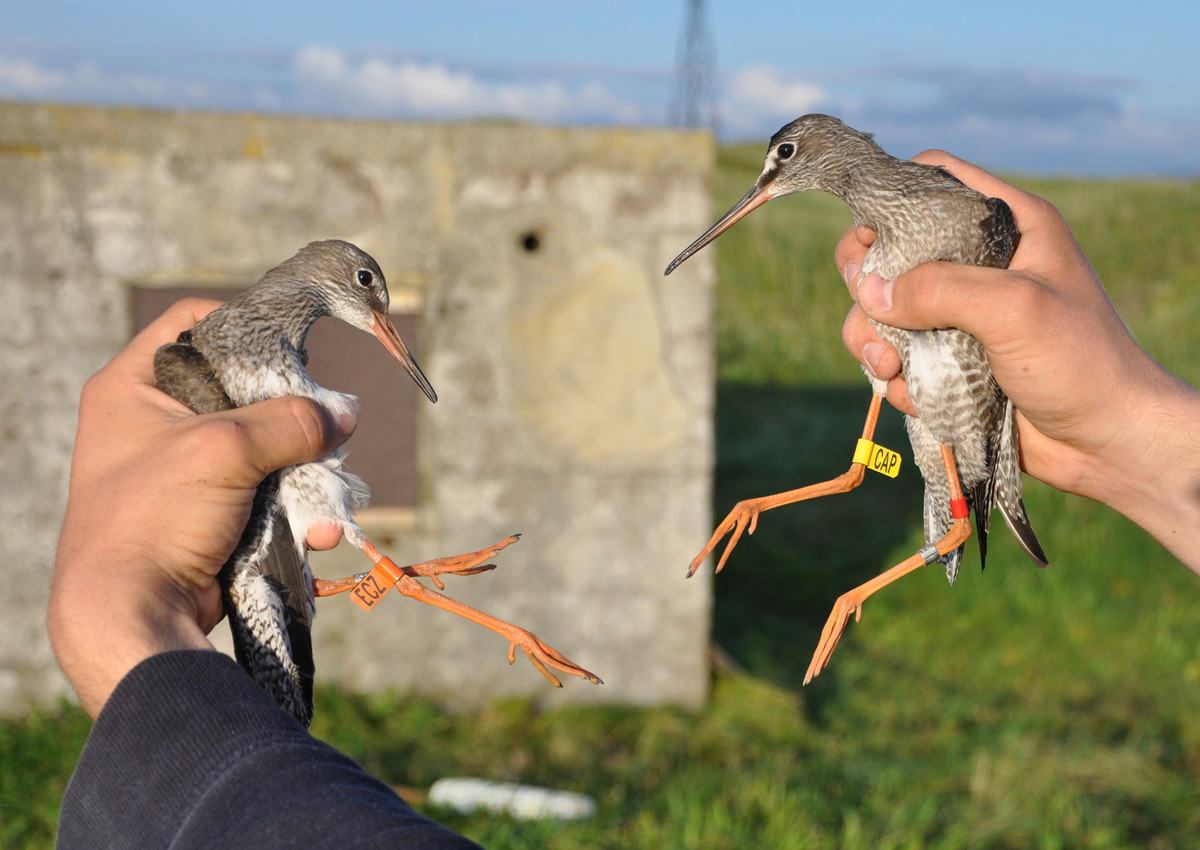 A good wader catch today, and in the afternoon after most people had left the beach we also succeeded in catching 10 Common Redshank (left) and 1 Spotted Redshank. Rødstilk (venstre) og sotsnipe.
Ringmerket: Myrsnipe 241, sandløper 12, dvergsnipe 1, rødstilk 10, sotsnipe 1, sandlo 8, steinvender 4, linerle 1, trepiplerke 15, heipiplerke 19, gjerdesmett 1, jernspurv 1, steinskvett 2, rødstjert 1, rødstrupe 3, gresshoppesanger 5, sivsanger 2, hagesanger 20, munk 3, tornsanger 2, møller 1, løvsanger 5, svartmeis 1, spettmeis 1, stær 14, gråspurv 2, pilfink 1, bokfink 2, grønnfink 1, tornirisk 1. Total = 381. 
Observations: A flock of 26 Black-tailed Godwits migrated west at Revtangen. Also a few Peregrines and at least one Merlin at Revtangen. Fly-overs at the observatory included Great Spotted Woodpecker, Yellow wagtail and 2 Grey Wagtails.
Ringers: Renate Berg, Asbjörn Folvik, Haavard Husebö, Alf Tore Mjös, Björn Mo and Morten Stokke. A big thanks to everyone who participated in another successfull "Open day" at Revtangen BO! 200 people visited, including 70 children.